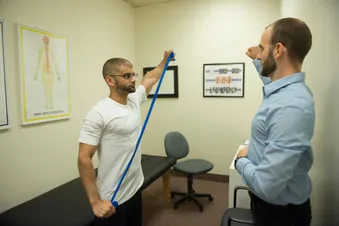 Physiotherapy in Pickering
The team at Health First Family Chiropractic offers you exclusive treatment protocols that are based on getting results for your specific condition. If you're interested in correcting the source of your problem, we will likely recommend the use of physiotherapy in your treatments.
Physiotherapy is ideal for addressing
Arthritis
Flexibility and mobility limitations
Joint pain
Sciatica
Tendinitis
And more
If you feel that your body is weak, has lost range of motion or you're in pain, physiotherapy can help you. It's used as a catalyst to complement our chiropractic care by addressing muscles dysfunction.
Three Avenues for Treatment
We work with your goals when we prescribe your protocol and use a combination of chiropractic and physiotherapy. The physiotherapy performed focuses on active stretching rather than relieving pain. Finally, the stability phase is when you're feeling better and have had your problem corrected. Ongoing care may be your best bet for staying well, though the choice is up to you.
You may feel better quickly. We like to caution our patients, however, that the injury hasn't necessarily healed because the area may still be unstable. That's when it flares up quickly with a simple task like picking something up off the floor or turning your head. Suddenly, your condition flares back up because it was never truly corrected. It's essential to reach the stability stage, preventing the problem from returning.
Contact us today to learn more about physiotherapy Pickering and our unique treatment protocols! Health insurance coverage can be used for your visits.

Contact Us